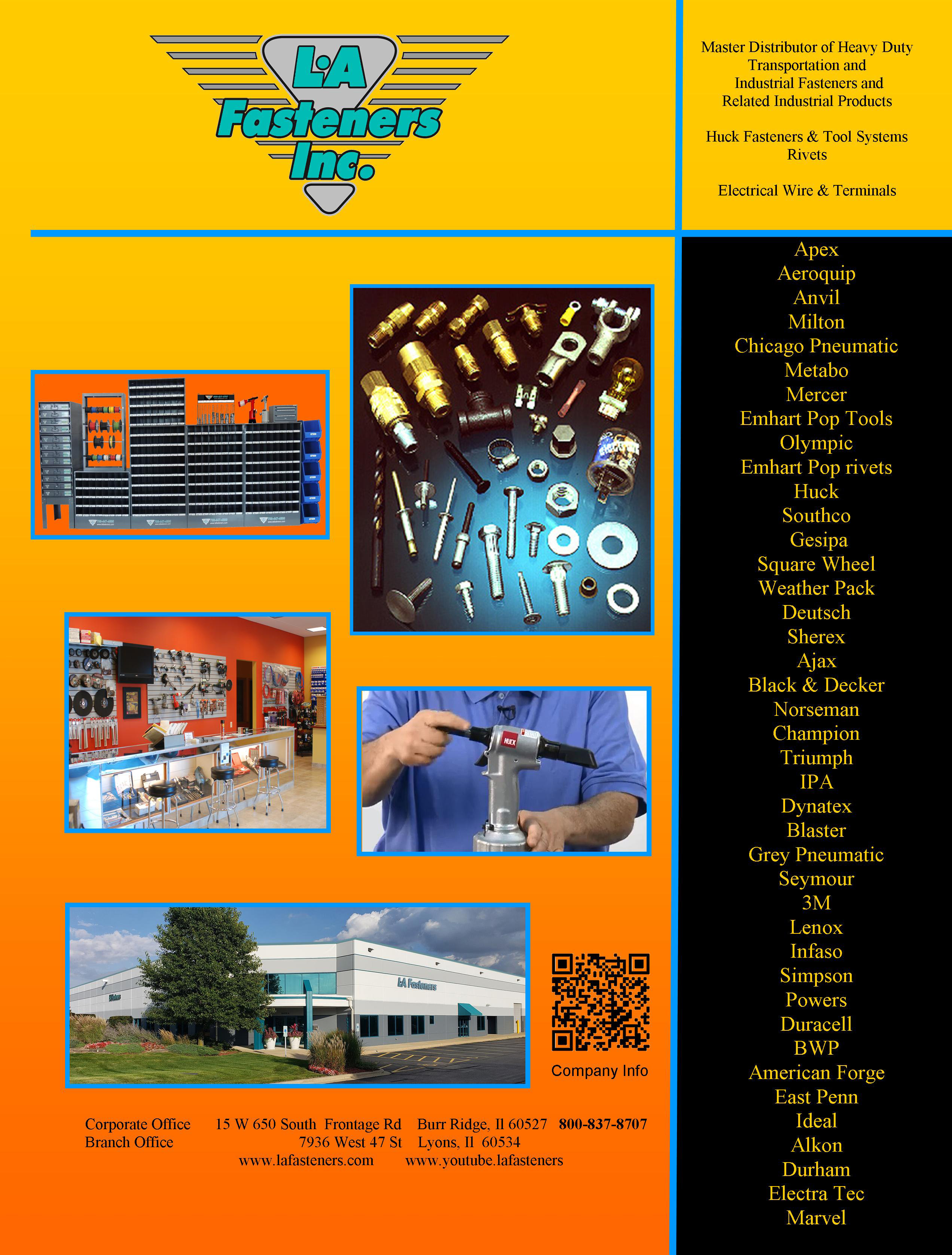 Video
In 1975, when I started L.A. Fasteners, Inc., I made a commitment to supply quality fasteners and fittings to the Chicago land area coupled with the best customer service possible. With that Company vision still alive and proven by our past reputation, it has allowed this Company to grow to service a variety of industries nationwide. L.A. Fasteners is proud to supply all types of industries: transportation, industrial, OEM, construction, manufacturing and resellers. All these industries require efficient and courteous service.
Achieving total customer satisfaction does require quality products and prompt delivery. However, always overlooked is the ordering process. At L.A. Fasteners, orders can be done quickly and easily over the phone. L.A. Fasteners strives to give you maximum flexibility in the ordering process. No special buttons to push and no part numbers are required. Time is money. Looking for part numbers in catalogs takes time, therefore, costing you money. We are staffed with knowledgeable and professional individuals ready to assist you with your orders or any other situation that may arise.
To further increase order efficiency, I am pleased to announce L.A. Fasteners now allows you to order on-line using our app on your smartphone or computer. Simply click on the shopping cart and you will be linked to our e-commerce site.
In addition to customer service, L.A. Fasteners is committed to quality control. Customers are aware of the importance of the quality of hex head cap screws and we all know there are many types available. L.A. Fasteners stocks and supplies hex cap screws manufactured by Infasco.
INFASCO. Canadian. Represented with a triangle on the head.
All products, including other fasteners and fittings, are manufactured to meet or exceed the standards of SAE, DOT, and IFI standards.
I am pleased to offer you a company that is committed to first-class services and quality. If there is, for any reason, a problem that needs to be addressed, please feel free to talk to me any time. Thank you for selecting L.A. Fasteners as your supplier.
Michael Arquilla
Founder, L.A. Fasteners, Inc.
This website uses cookies to ensure you get the best user experience. By continuing to use this site, you agree to our Terms of Access.